Project description
The Kenya Forest Project has been developed by The International Small Group and Tree Planting Program (TIST), a climate change mitigation program that supports small groups of subsistence farmers with technology, skills and services to minimise the effects of deforestation, drought, food insecurity and poverty.
Farmers working with TIST own their own land, as well as all trees they plant, and the fruit, nuts, fodder and fuel they produce as a result. In addition, farmers are paid for the cost of planting and maintaining trees, and given their share of net carbon revenues. TIST provides training in sustainable development and conservation farming, helping farmers build up their climate resilience.
The Kenya Project started in 2004 and now includes 5,168 small groups and 76,319 active TIST members, along with other stakeholders like the National Environmental Management Authority (NEMA), community groups, government officials, NGO's and local church representatives. ​
Located in the central, Rift Valley and eastern provinces of Kenya, most of the project activity is focused on Meru and Nanyuki. The project comprises 19,073 project areas covering 9,806 hectares on mostly degraded lands, with a few protected forests close to the project area.
Carbon removal and Biodiversity conservation
To date, the Kenya Project has achieved a net emission removal of 1,108,743 tCO2e, with over 3.2 million trees planted and carbon credits legally protected for 30 years. ​To promote biodiversity, 411,068 indigenous trees and 22,017 endangered Meru Oaks have been planted. The project also aims to improve wildlife, by creating corridors between high conservation value areas, needed for the habitat and migration of healthy animal populations. ​
Socio-environmental benefits ​​and capacity development
With 35 776 farmers received benefits, the Kenya Project has improved employment opportunities and income generating activities, including fruits and nuts, animal products, improved crops and production of compost, manure, honey, and tree seedlings. In addition, TIST has supported with training and capacity development in conservation farming, forest plantation and management techniques, climate change, biodiversity, health topics, business skills, fuel-efficient stoves, project monitoring, reporting and data management, and women's empowerment through balance in employment, leadership and representation.
Verra certification
Verra is a third-party certification body that verifies projects and issued credits. SHIFT carbon credits are listed in their registry, and Verra is open with their methodology for maintaining the registry. The Verra registry is fully accessible to anyone, which gives all stakeholders full transparency, thereby minimizing the risk of double counting credits. Once credits are retired in the Verra registry, they cannot be used again.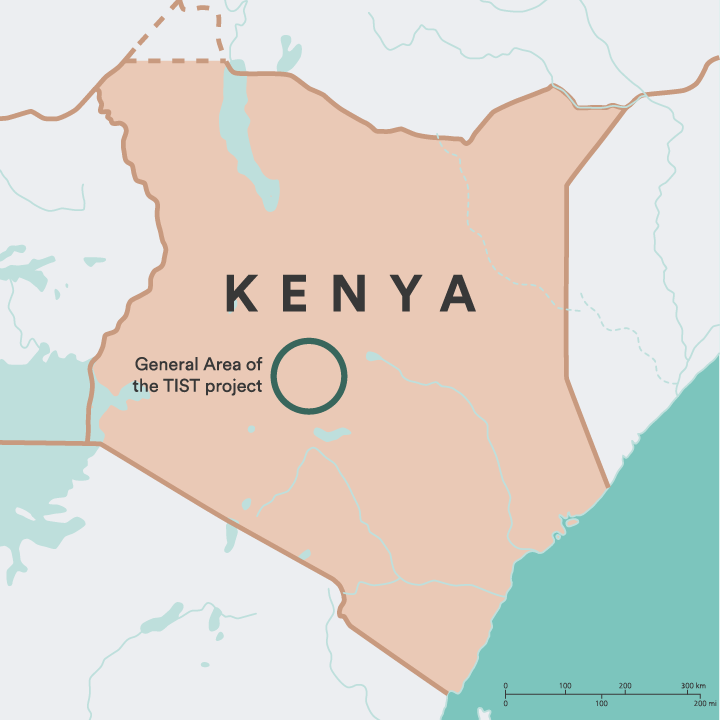 KENYA FOREST PROJECT
The project in short
The Kenya Project is a Verified Carbon Standard (VCS), Climate, Community and Biodiversity (CCB) type developed by "The International Small Group and Tree Planting Program, Kenya, (TIST)", a climate change mitigation program present in Uganda, Kenya, India and Tanzania​.

The project is currently removing 1,108,743 tCO2e of carbon from the atmosphere and has a crediting period of 30 years (2004-2033).

The project provides sustainable development training that helps local communities achieve their own capacity building and improve people's wellbeing. ​

In addition to various income generating activities, farmers and local communities also get a direct cash benefit from the net carbon revenues​.

TIST members are also trained in conservation farming, to help build up climate resilience. ​

The project has planted 160 different species so far, including indigenous and endangered tree species. ​

The project is especially committed to 7 of the UN Sustainable Development Goals (SDG's) 1, 3, 5, 6, 7, 13, and 15.​