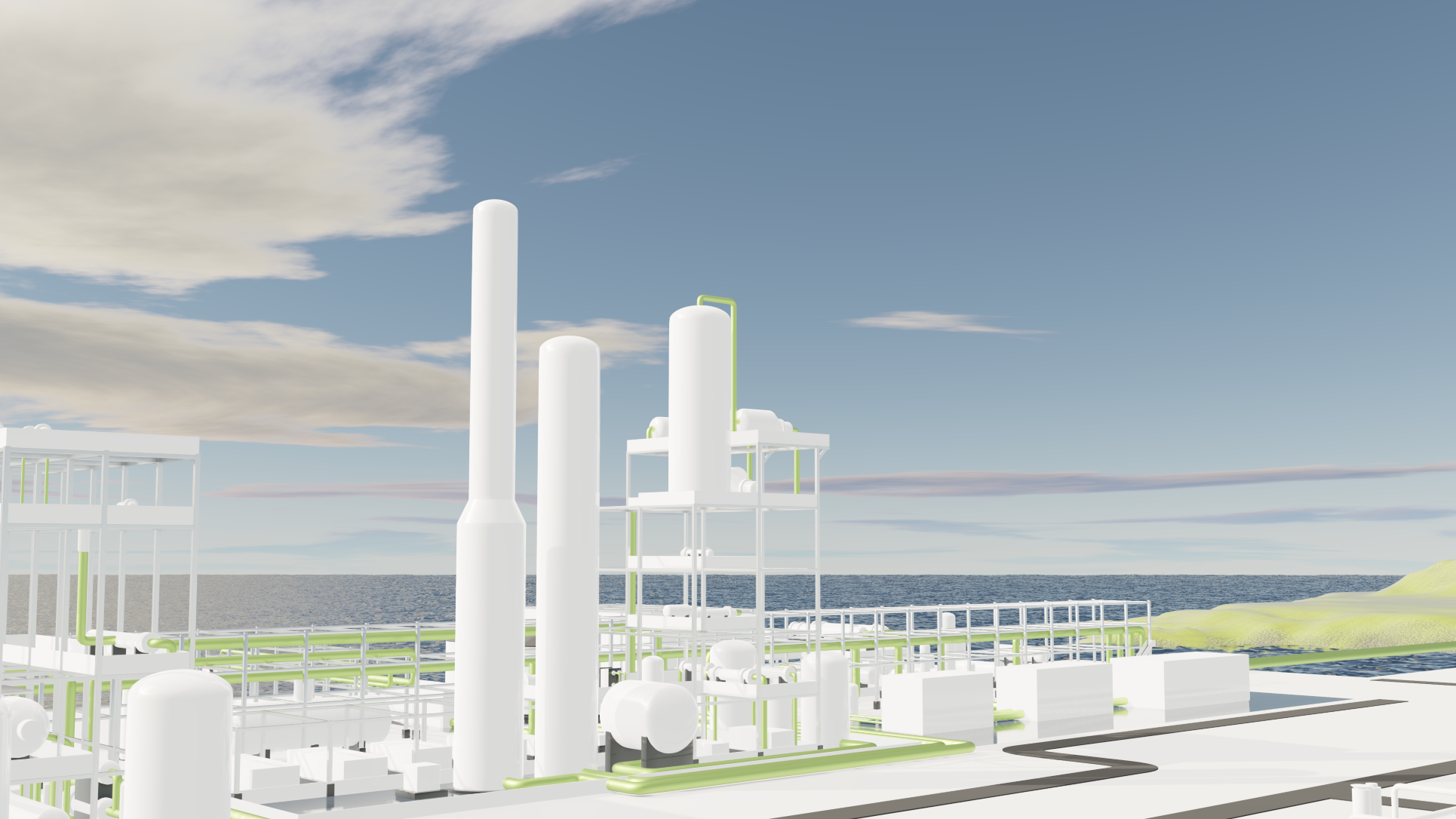 Illustration of the green ammonia facilities. To be credited to Tek3d.
OSLO / SANDNES, Norway – August 16, 2021 - The energy company St1 Nordic Oy and the Norwegian clean energy company Horisont Energi AS announced today the signing of a memorandum of understanding for the joint development of a green ammonia project in Finnmark, Northern Norway. The target of the partnership is to produce green ammonia for a wide variety of renewable energy products for transport and industry.
St1 and Horisont Energi will conduct pre-studies for the potential of green ammonia production in Finnmark based upon electrolysis using wind power, hydrogen from various green feedstocks, and in addition explore the use of several new and alternative technologies in green ammonia production. The partners will also explore the whole value chain for negative emissions – from carbon capture to final storage – to create carbon removal credits (CRCs) for commercialisation and to contribute to the development of related legislation.
From wind power to green ammonia
By combining their competencies in their respective fields, the parties will model a viable non-fossil ammonia value chain from feedstock to end consumer. As a part of the study, the partners will also be assessing potential locations for green ammonia production in Finnmark. The electrolysis will require the wind power that St1 plans to produce in Finnmark. St1 has already submitted a permit application for the development of Davvi wind park (800 MW), in addition to other pipeline projects.
Positive results from the pre-studies may lead to jointly developing a hybrid green ammonia plant.
"Driven by our vision to be a leading European provider of clean energy and carbon storage services, we are excited to be joining forces with St1 in bringing green products to market and exploring business models for negative emissions, as part of the global move toward decarbonisation. Green hydrogen converted into ammonia unleashes the potential of renewables, ensures energy system efficiency and enables a carbon-neutral source of fuel and heat for our homes, transport, and industry, thereby making it instrumental in meeting the EU's climate objectives," says Bjørgulf Haukelidsæter Eidesen, CEO of Horisont Energi.
"We are very pleased to be teaming up with Horisont Energi to assess the possibilities for developing this project together. Decarbonisation of transport and industry is a massive challenge, and to solve it, we must couple the power sector with the end-use transport sectors like marine, aviation, and road freight transport, as well as industry. In addition, we are excited to further develop a commercial and regulated carbon marketplace for trading of carbon removal credits. In Horisont Energi, we have found a partner with competence and expertise that is a great fit in realising our vision to be the leading producer and seller of CO2-aware energy," says Kristine Vergli Grant-Carlsen, CEO of St1 Norway.
Horisont Energi is already engaged in the Barents Blue project in Finnmark, Europe's first large-scale blue ammonia production. Using natural gas from the Barents Sea, Barents Blue will have a production capacity of 3000 tons of ammonia per day once operational in 2025.
For more information:
Timo Huhtisaari, Director, Sustainability and Future Business, St1 Nordic Oy, +358 41 504 4694, timo.huhtisaari@st1.com
Bjørgulf Haukelidsæter Eidesen, CEO Horisont Energi, +47 990 36 892 // bhe@horisontenergi.com
About St1
St1 Nordic Oy is a Nordic energy Group whose vision is to be the leading producer and seller of CO2-aware energy. The Group researches and develops economically viable, environmentally sustainable energy solutions. St1 focuses on fuels marketing activities, oil refining and renewable energy solutions such as waste-based advanced ethanol fuels and industrial wind power. The Group has 1.250 St1 and Shell branded retail stations in Finland, Sweden and Norway. Headquartered in Helsinki, St1 currently employs c. 1.000 people. www.st1.com
About Horisont Energi
Horisont Energi (EURONEXT: HRGI) is a Norwegian carbon tech company that provides clean energy and carbon storage services. The company transforms gas into cost-leading ammonia and hydrogen, and offers CO2 transportation and storage solutions using proprietary technology, paving the way for a low-carbon economy. The company was founded in 2019 and is headquartered in Sandnes, Norway. www.horisontenergi.no