Despite these challenging times, we continued our work of transitioning our value chain towards greater sustainability, according to our energy transition roadmap. With that roadmap, we have created a strong link from our vision to our strategic focus.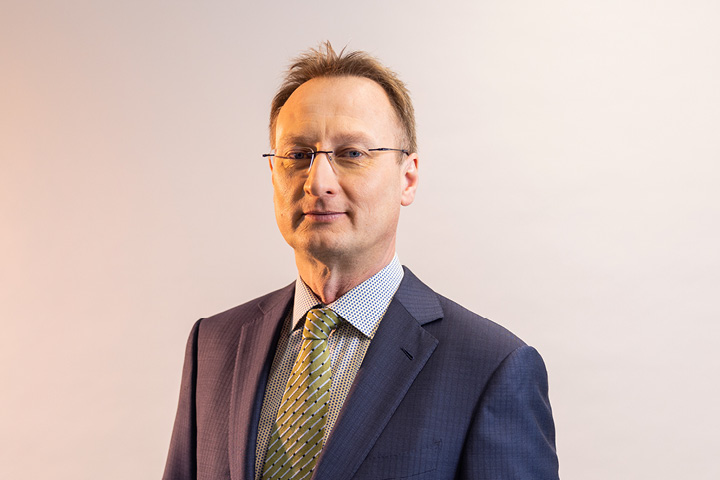 Sustainable energy and security of supply
CEO's review Gamechanger 2022
Even before Russia's invasion of Ukraine, Europe was heading towards an energy crisis. However, the war has seriously accelerated the impact of the crisis on the global market. The situation has tested the ability of companies' processes, risk management, and business models to cope with the consequences of this kind of severe shortfall in the energy supply.
The energy crisis has made us all realize that while we are in the middle of the energy transition, we must maintain security of supply. The willingness to increase the use of low-emissions energy is greater than ever before, but the realistic means to deliver a significant scale-up are still lacking. We have to realize that to carry out the energy transition in a sustainable way, the time frame for doing so will inevitably have to be longer than the current targets have forecast.
Focused on the energy transition roadmap
Despite these challenging times, we continued our work of transitioning our value chain towards greater sustainability, according to our energy transition roadmap. With that roadmap, we have created a strong link from our vision – to be the leading producer and seller of CO2-aware energy – to our strategic focus areas in the short- and mid-term, and our plans for years to come.
This roadmap presents our ambitious outlook for the future regarding new projects, the viability of which will require a continuous, healthy cash flow and strong partners. Nevertheless, decisions on the future regulatory framework will almost certainly affect the roadmap's realization.
Our sustainable projects progressed by leaps and bounds
2022 was an exceptional year for St1. I feel privileged to work with our dedicated organization, one that has accomplished such great things. Once more, together we have achieved something that we haven't seen before.
Our renewable fuels business took a significant step forward in the beginning of the year when we finalized the acquisition of Brocklesby Ltd. in the United Kingdom. We welcomed the recycling expert of used cooking oil and fatty food waste, one of the UK's leading refiners in this field. Brocklesby will provide feedstocks for renewable diesel and sustainable aviation fuel (SAF), to be produced in the new Gothenburg biorefinery, which will be operational by the end of 2023. The biorefinery is our biggest single investment in our history so far, highlighting the scale and scope of our sustainability ambition.

In the biogas business area, we established a joint venture with the food company Valio to produce renewable biogas as transport fuel, using dairy farm manure and agricultural by-products. Suomen Lantakaasu Oy is planning the construction of what will be Finland's largest biogas and liquefaction plant to date, in North Savo.
We also made an investment decision to construct a biogas upgrading and liquefaction refinery in Borås, Sweden. This investment helps us to continue expanding our biogas filling network in the Nordics.
Towards the end of the year, we acquired 14.5% of the shares of Scandinavian Biogas Fuels International AB, one of the leading biogas producers in the Nordics.
Our Power-to-X projects advanced on many fronts. In the summer, we formed a partnership with Vattenfall. A feasibility study is currently ongoing, aimed at addressing the full value chain for the production of synthetic fuel from offshore wind on the west coast of Sweden.
We also reached an agreement with the circular economy energy company Vantaa Energy for cooperation on the distribution of the gas produced by their electric fuel plant to our customers.
In the autumn, we announced plans to construct the first synthetic methanol plant in Finland. The commercial-scale pilot project aims to produce renewable synthetic methanol to replace fossil fuels used in maritime and road transport.
We strengthened our wind power portfolio significantly last year. In Norway, our wind power projects in Finnmark advanced well. The 800 MW Davvi project is currently in the permitting phase, and we also submitted a notification regarding a new 750 MW wind power project, Sandfljellet, in the same area. Additionally, we acquired Nordre Sørøy Energiselskap AS, which has a 200 MW wind power project in the Hammerfest municipality of Northern Norway.
Electric vehicle (EV) charging network installations continued in Norway as part of our retail offering. We are also preparing to expand our charging network to Sweden and Finland as we see growth in this segment going increasingly forward.
"We base our growing energy business on our values: transparency, fairness, sustainability, and equal opportunities."
The financial year
Our operating environment in 2022 was very volatile and challenging. Changes were rapid and the energy market experienced a number of unprecedented events, particularly in terms of prices, as a result of the war in Ukraine. Maintaining security of supply and monitoring the market were key in all parts of our value chains. Nevertheless, St1 delivered strong performance in 2022.
We also pursued our planned investments rigorously, both in our existing business as well as in our new renewable energy projects in particular. Our investments in renewable energy production exceeded EUR 110 million.
Net sales of the St1 Nordic Group in 2022 amounted to EUR 10.5 billion, up EUR 4.1 billion compared to the previous year. Net sales increased due to the sharp rise in the prices of oil products on the world market during the year, as well as due to slightly higher sales volumes of service stations and direct sales. Finland accounted for 22%, Sweden for 52%, Norway for 25%, and the UK for 1% of our net sales.
Operating profit amounted to EUR 284.4 million, up EUR 103.0 million year-on-year. Earnings after tax amounted to EUR 234.6 million, whereas earnings in the previous year amounted to EUR 148.8 million. Refining and wholesale margins were significantly higher than in the previous year due to the volatility in the energy market caused by the global geopolitical situation.
Due to continued intense price competition, the performance of the Retail and Direct Sales market weakened. The performance of the biogas business was negatively affected by the high market price of gas products, especially towards the end of the year.
Cash flow from operating activities amounted to EUR 226.5 million. Investments amounted to a total of EUR 284.6 million. The largest of these were the biorefinery under construction in Gothenburg and the acquisition of Brocklesby Ltd. in the UK in early 2022.
Conducting business according to our values
We base our growing energy business on our values: transparency, fairness, sustainability, and equal opportunities.
Achieving results is important, but the way we reach our goals is just as critical. St1 Nordic committed to the UN Global Compact in 2020. Since then, its ten core principles concerning human rights, working life, the environment, and the fight against corruption have inspired our sustainability work and given it a solid backbone upon which we can build more transparent and sustainable business operations.
In 2022, St1 Group's sustainability themes focused heavily on developing and ensuring the sustainability of our supply chain and implementing measures required by due diligence. Our focus for the year was to develop the company's sustainability risk management and assessment as well as to increase measures to guarantee transparency, alongside the development of a continuous impact assessment of our value chain. In addition, we updated the entire organization's materiality analysis by engaging stakeholder groups. As part of this development work, we will publish our first due diligence report in spring 2023.
People are the heart of our value chain
Executing our strategy demands agile but controlled moves, and this is particularly important in challenging times. We need to dedicate our resources to developing a profitable and sustainable business for the future. As an energy transition company, we continued to strengthen our organization with new capabilities and ensure the transparent flow of information, together with common processes and tools.
We focus continuously on maintaining psychological safety, helping everyone within our organization to feel valued. Our Culture for Growth gives us a strong platform for all of us to thrive. We evaluate the success of what we measure frequently and process the received feedback together to drive action.
We are committed to offering a safe working environment for everyone at St1. Strong Health, Safety, Security & Environment (HSSE) performance is of high importance in the development of all our business units.
Last year, St1 celebrated its 25th anniversary. We have grown from a small Finnish fuel retailer to an energy transition company, now operating in four countries. Our refinery turned 75 years old last year and is now ready to open a biorefinery to produce renewable diesel and sustainable aviation fuel. Our history shows that our dedicated people, who constantly renew themselves to create sustainable business for the future, will attain our ambitious vision to be the leading producer and seller of CO2-aware energy.
I would like to extend my warmest thanks to our employees for their humble efforts and team spirit. I would also like to thank our clients and partners for your trust in our services and activities during these challenging times.