St1 Nordic Structure 29.3.2023
St1 Nordic Oy is an energy group whose vision is to be the leading producer and seller of CO2-aware energy. The Group researches and develops economically viable, environmentally sustainable energy solutions. St1 focuses on fuels marketing activities, oil refining and renewable energy solutions such as waste-based advanced biofuels and industrial wind power. The Group has 1,270 St1 and Shell stations: unmanned and service stations as well as heavy goods vehicle (HGV) sites together with network of gas distribution and EV charging points in Finland, Sweden and Norway. Headquartered in Helsinki, St1 employs currently more than 1000 people.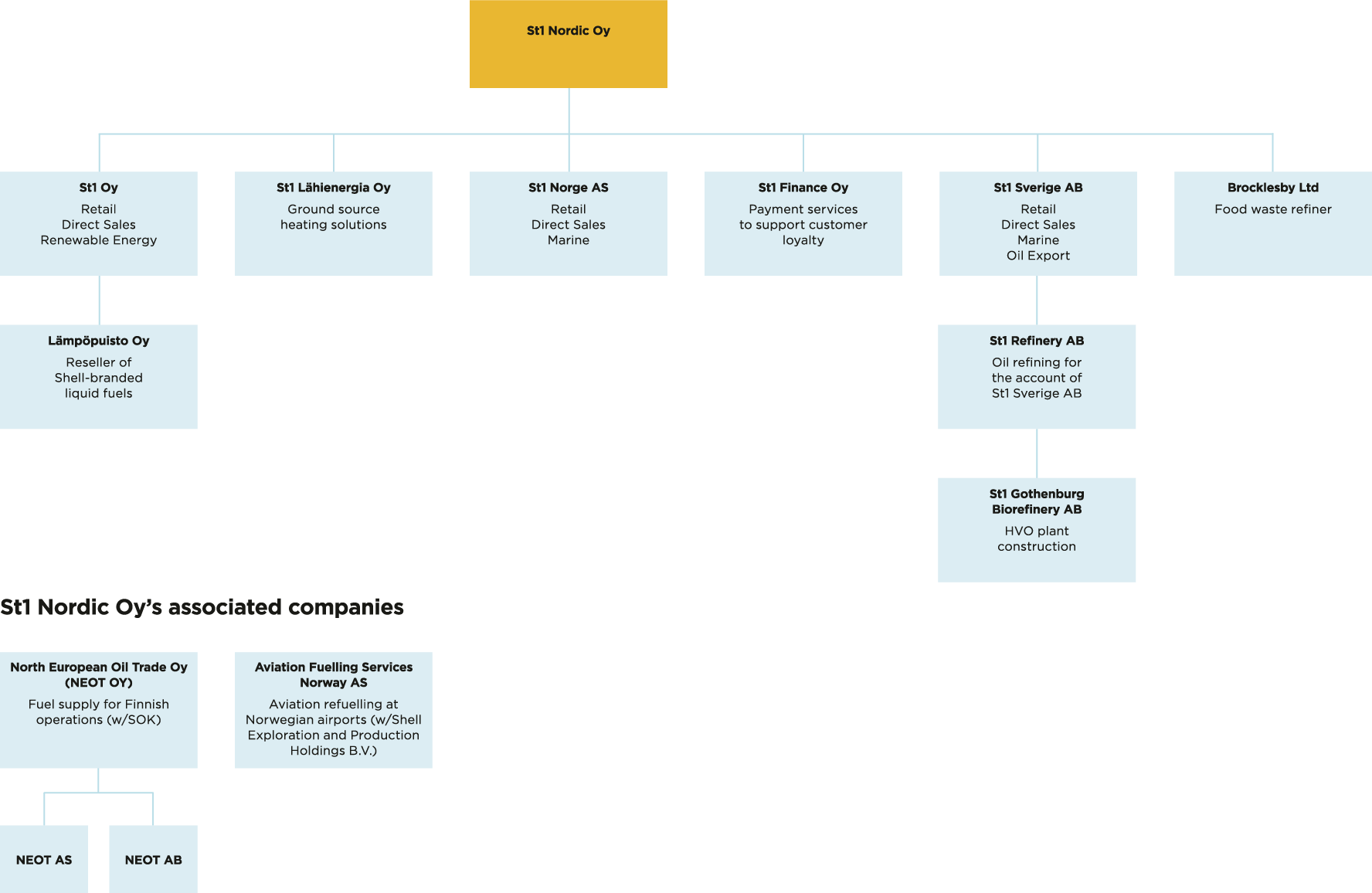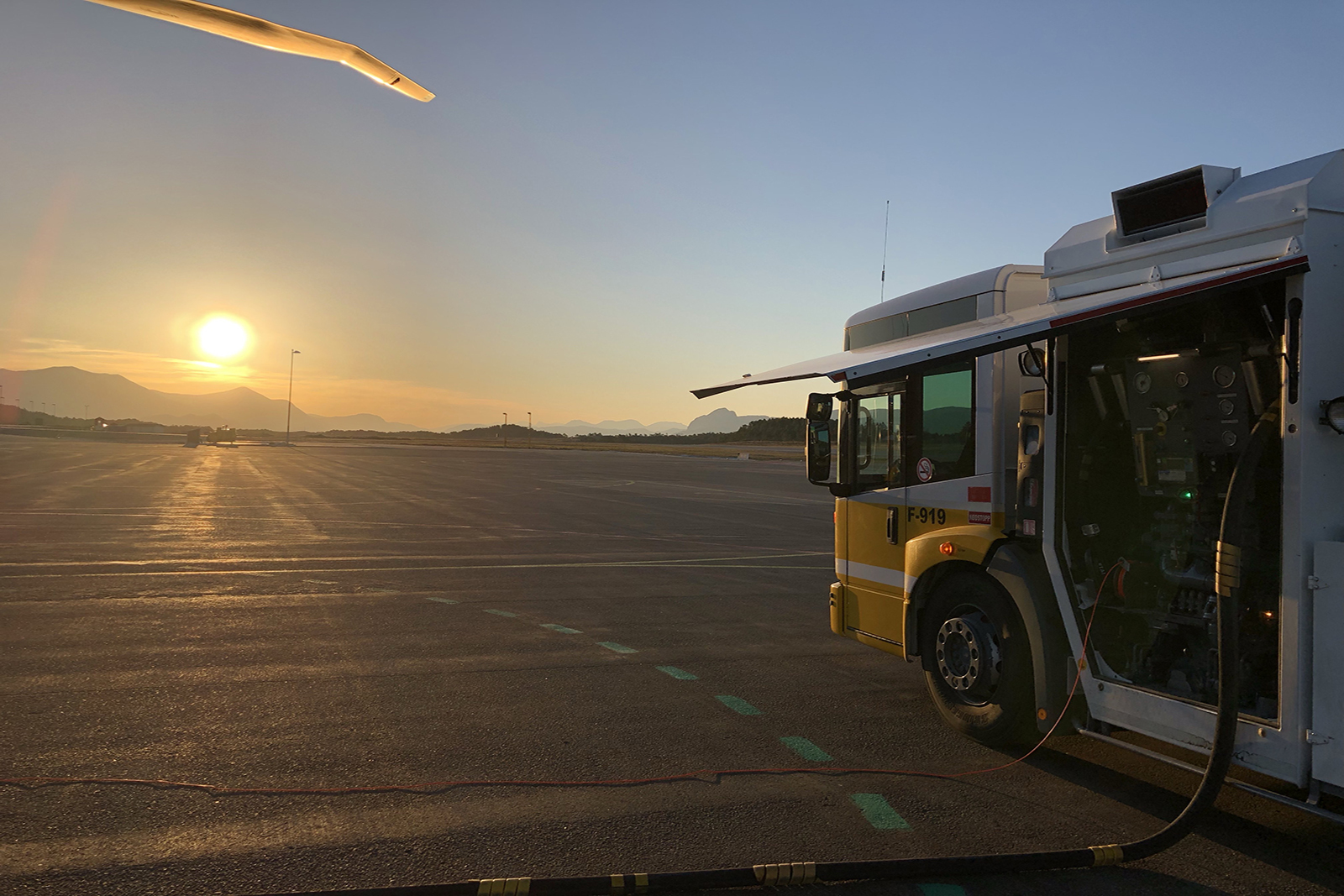 Associated Companies
Our operations are strengthened by strategic long-term partnerships in various areas.
North European Oil Trade Oy is a significant independent fuel supply company in the Baltic region.
Aviation Fuelling Services Norway AS is an aviation fuelling services provider in the Norwegian market.
St1 Value Chain
St1 is an energy company, whose vision is to be the leading producer and seller of CO2-aware energy. In the spirit of our vision, we research, develop, produce and invest to be able to provide our customers with CO2-aware energy while creating positive societal impact. Our employees' ambitious work keeps transitioning our value chain constantly towards greater sustainability.
St1 as a Corporate Citizen
St1 Nordic's Corporate Responsibility
A responsible company must ambitiously take in the big picture at all times. We must keep abreast of what's going on in the world and understand what clients will need in the future. We base our growing energy business in Nordic society values. As a Nordic corporate citizen, we believe in transparency, fairness, responsibility, equal opportunities and social security - resulting in equal education and health care.
St1's vision is to be the leading producer and seller of CO₂-aware energy. While fossil fuels are still our main source of income, it allows us to build world-class expertise in introducing more and more renewable energy to the market
The key enablers of our solid performance are our world-class people, partners, business technology, financing services, and cash flow together with our return on equity. Our financial performance enables new sustainable investments in renewable energy. Passion for replacing fossil fuels also powers our research and development of new, sustainable and innovative CO₂-aware energy solutions. Our customers benefit from the competitive edge we gain by managing the complete value chain from raw materials and energy sources to service at the pump.
Based on such an understanding and on demand, we are solving global energy challenges by taking steps in a direction where we move ourselves from a fossil world into a renewable world. We try to ensure that everything we do in our whole value chain is based on world-conquering mentality and passion.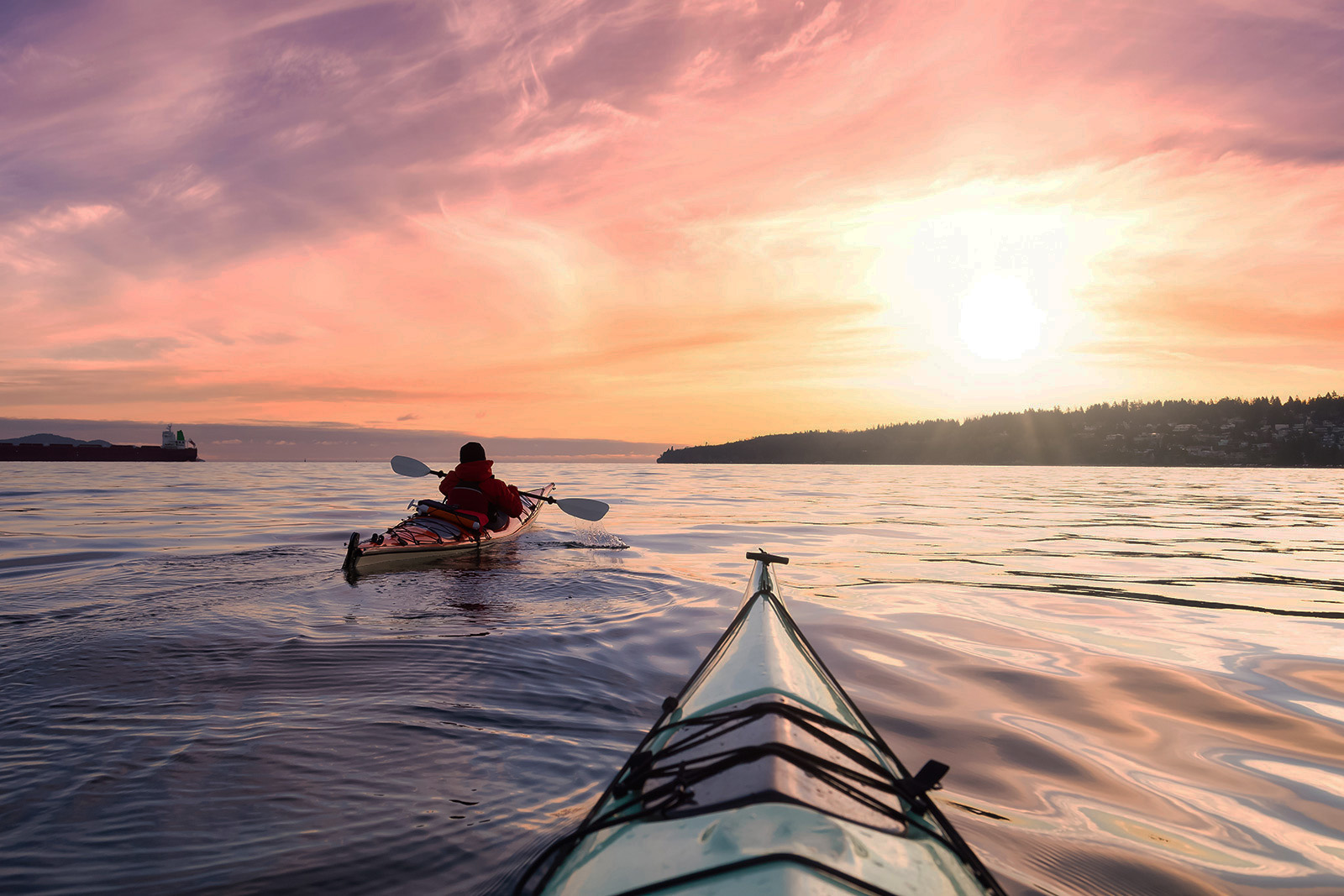 Download Game Changer 2022
This is the sixth integrated corporate sustainability report by St1 Nordic and it is published to recount our most material disclosure topics in corporate sustainability as well as our business activities.
Key Figures / St1 Group
St1 Group Oy was merged into St1 Nordic Oy on 31 December 2017.
Market Positions
St1 has strong market positions in all countries we operate in.
At the end of 2022, our retail network consisted of some 1270 St1 and Shell sites in Finland, Sweden and Norway: unmanned and service stations as well as heavy goods vehicle (HGV) sites together with network of gas distribution and EV charging points.
St1 Nordic Corporation - Investor Relations
Commercial paper programme
St1 Nordic has launched a EUR 200 million commercial paper program. Funds will be used for short-term working capital purposes. Danske Bank, Nordea and Swedbank act as dealers of the programme.
31 March 2023 - Financial Statements Release for the year 2022
28 April 2023 - Publication of the Integrated Report 2022
31 August 2023 - Interim Report January - June 2023
If you have any questions regarding the business or investor relations activities of St1 Nordic Corporation, please do not hesitate to contact us.
St1 Nordic Oy
P.O. Box 68
FI-00521 Helsinki, Finland
Kati Ylä-Autio, CFO, kati.yla-autio@st1.com, +358 10557 5263
Liisa Joenpolvi, Head of Communications, liisa.joenpolvi@st1.com, +358 10557 2419
Articles of Association
Unofficial translation
1 § The name of the company is St1 Nordic Oy; in Swedish, St1 Nordic AB; and in English, St1 Nordic Corporation.
2 § The company domicile is Helsinki.

3 § The sphere of operations of the company is trade, storage and manufacturing of fuels, owning of shares and holdings in companies in the energy sector or engaged in operations supporting or serving same, as well as providing and selling professional, finance, marketing and administrative services. The company may own shares or holdings in companies or entities, real estate, machinery and equipment and to buy, sell or lease the same, and sell, govern and rent patent, product and other immaterial rights.

4 § The company shall have a Board of Directors with one (1) to five (5) regular members, and at least one (1) deputy member if fewer than three (3) regular members are elected. Members of the Board of Directors are elected for an indefinite term of office.

5 § The Board of Directors collectively, the chairman of the Board of Directors and the CEO both severally, and members of the Board of Directors two together, shall sign for the company. The Board of Directors may also assign a procuration or authorisation to sign for the company to specific individuals.

6 § The company shall have one regular auditor and one deputy auditor. If an audit firm is elected as auditor, a deputy auditor need not be elected.

7 § Notice of a General Meeting shall be delivered no earlier than two months and no later than one week prior to the General Meeting to each shareholder whose address is known to the company. The notice may also be sent by email to the address informed to the company by the shareholder.

8 § The Annual General Meeting shall be held each year within six (6) months of the end of the previous financial year, on a date determined by the Board of Directors. The Board of Directors may decide that the shareholders may also attend the Annual General Meeting in such a way that a shareholder exercises his/her decision-making power by using a data communication connection and a technical device before or during the Annual General Meeting. The Board of Directors may also decide that the Annual General Meeting is organised without a meeting venue so that the shareholders exercise their full decision-making power in real-time by using a telecommunications connection and a technical device during the meeting.

At the Annual General Meeting, the following shall be decided:

1. adopting the financial statements,
2. disposing of the profit shown on the balance sheet,
3. discharging from liability the members of the Board of Directors and the CEO,
4. if necessary, electing the Board of Directors and the auditor.

9 § If a company share is transferred to a third party from a shareholder other than the company itself, the company shall be entitled to redeem such a share. The provisions of the Limited Liability Companies Act shall apply to the redemption.

St1 Nordic Oy Management
Henrikki Talvitie
CEO, St1 Nordic Oy
CEO, St1 Oy


Hilde Wahl
Director, Sales and Brands
CEO St1 Sverige AB
Sampsa Halinen
Director, Energy Trade and Logistics
Kristine Vergli Grant-Carlsen
Miika Johansson
Director, Renewable Energy
Henri Halmelahti
Director, Business Technology
Lea Rankinen
Sustainability, Communications and Public Affairs Business Unit Lead
Board of Directors
Mika Anttonen
Chairman of the Board of Directors
St1 Nordic Oy
Mikko Koskimies
Managing Director
eQ Varainhoito Oy
Kim Wiio
Managing Director
Mininvest Oy
Kati Ihamäki
Vice President Sustainability
Fiskars Group