Our value chain begins with sustainable raw materials and energy sources such as waste, wind, biomass, and geothermal heat. We produce and invest in sustainable energy production: wind parks, geothermal heat, and biorefineries. We are also investing in an energy transition at our traditional refinery.
Refinery
The purchasing of crude oil for St1's refinery in Gothenburg, Sweden, is managed in close cooperation with our associated company NEOT, while STASCO performs the trading. The crude oil is sourced mainly from the North Sea and only from identifiable sources. Out of the 4191 km³ total volume of crude oil that the refinery procured in 2021, 3395 km³ was of North Sea origin.
The refining capacity of our Gothenburg facility is approximately 30 million barrels of crude oil per year. In 2021, throughput amounted to almost 26,4 million barrels. The Gothenburg refinery's utilization rate was 81,5% vs. a potential level of 90+%, which was mainly due to maintenance work at the facility.
We use most of our refined products in our own value chain
Our Gothenburg refinery also operates as a blending hub. Besides the fuel we refine from crude oil, our partner, NEOT, supplies additional fuels to fulfill our demand. NEOT sources these fuels, which are of fossil and bio-origin, from other refineries in the Baltic Sea area, emphasizing high quality and suitability in its fuel selection process. We sell most of the resulting products directly through our network in Sweden, Finland, and Norway.
Our fuel blends contain several bio components that are sourced mainly from the global market to maximize the reduction of greenhouse gas emissions. The blends of fossil and bio components in our products vary by operating country, depending on national regulations and demand factors. We are constantly aiming to develop and market new products that enable better fuel economy and make less of an impact on the environment. The share of the renewable components we use has increased in recent years as we have incorporated greater volumes of bio components such as ETBE, bio-MTBE, and HVO-naphtha. Additionally, we will utilize new sustainable feedstocks when we start producing our renewable diesel in 2023.
The products of our refinery include mogas, JET A1, sulfur-free MK-1 diesel and other middle distillates, marine fuels as well as liquefied petroleum gas. The refinery also produces 0.5% S marine fuel, which complies with the IMO 2020 limit that came into force on January 1, 2020. All the refinery's products comply with the applicable environmental requirements.
Health, safety, security, and environment
The St1 Refinery has a Health, Safety, and Environmental (HSE) Management System in place to continuously improve our work concerning health, safety, security, and the environment (HSSE), as well as minimize the risk of incidents. External audits of our environmental management system are conducted annually by accredited bodies. Our internal audits are carried out by trained St1 personnel and cover the entire management system for health, safety, and the environment.
In 2021, the St1 Refinery continued its journey to further increase and develop the safety and security awareness within the organization. In July, a behavior-based safety (BBS) program was initiated at the refinery to increase safety and risk awareness within the organization. Behavior-based safety is a process that aims to strengthen the daily behavior of employees and managers through safety observations, which reduces the risk of accidents in the workplace. This type of work, which positively impacts the whole organization, will continue for many years to come and serve as a solid foundation for our daily operations.
The refinery's environmental permit was renewed in 2020, and measures related to it were initiated in the permitting process. The most significant project is the improvement of the refinery's wastewater treatment plant to meet the new, stricter emission limits. We are committed to continuously improving our environmental performance, and the new permit enables the refinery to take a big leap in our transition towards biorefining.
St1's refinery is extremely energy efficient with an energy intensity index of 74, emissions of approximately 500 kt of CO2, and a high degree of heat recovery. Nearly a third of the heat generated by the production equipment is recycled by Gothenburg's district heating network and every year, we deliver approximately 650 GWh. The Energy Intensity Index (EII) is an index of energy intensity created by Solomon Associates, which compares the consumption of primary energy sources at different refineries.
The St1 refinery was the first in Europe to acquire the ISO 14001 environmental management certificate.
To maintain safe and reliable operations without interruptions, the refinery's existing equipment and facilities require planned maintenance and repair measures regularly. Last year, there was a maintenance turnaround during the spring that lasted approximately 2 to 3 weeks. The work went well and after a somewhat lengthy start-up, the refinery was back up and running with good margins by the second half of the year.
COVID-19
The prolonged COVID-19 situation presented challenges to the seamless operation of the refinery. To ensure continuity and the delivery of critical operations, the number of people working on-site at the same time was reduced immediately. Some of the employees was able to continue working remotely while the rest were on stand-by at home.
Refinery in transformation
Steps towards organizational transformation
The developing refinery organization has defined three focus areas for the coming years: 1. Safety and environment, which translates into increased behavior-based safety awareness and a commitment to constantly improve environmental performance; 2. Preparing for the future, which relates to the start of the transformation journey toward biorefining; and 3. Enhanced administrative structure, which facilitates continuous competence building and provides a supporting framework for the whole refinery organization.
2021 was a year of development and planning at the refinery, and the process continues in preparation for the start of renewable diesel production at the facility. Last year, we welcomed close to 30 new employees at the refinery and Green Process Unit teams.
Preparing for the start of biorefining renewable diesel
The civil construction work at the Green Process Unit at the St1 refinery is moving according to plan. The biorefinery will have an annual capacity of 200,000 tons of renewable fuel production and is expected to begin its operations in 2023.
In 2021, St1 entered a joint venture with SCA to produce and sell liquid biofuels. SCA will supply tall oil to the joint venture and will invest approximately SEK 0.6 billion in the company. SCA and St1 will be equal shareholders of the joint venture, which will itself have a 50% share in the St1 Gothenburg Biorefinery.
The design of the biorefinery brings flexibility to the process by allowing the use of a wide range of feedstocks. The unit can meet the current and future specifications of the renewable fuels to be produced, which include HVO diesel, jet fuel, and naphtha. The joint venture will have access to SCA's tall oil, a by-product from the kraft pulp production at SCA's mills in Östrand, Obbola, and Munksund.
Another strong area for St1 is within technological screening and evaluation of thermochemical pathways with our partners to produce renewable diesel, bio-jet, and other biorefining products.
Advanced biofuels
As the result of tightening EU regulations and national laws, the demand for sustainable biofuels is growing. However, there is competition for the same limited amount of sustainable raw materials for different needs, such as plastics and textile production. The replacement of fossil energy in heat and electricity production also demands the same feedstocks. Our target is to find higher value-added uses for biomass, such as the residues of the Nordic forest industry.
Our long-term advanced renewable fuels strategy for our domestic markets of Finland, Sweden, and Norway is to competitively fulfill the regulations for the year 2030 and beyond. Today, we are producing advanced ethanol from various kinds of waste and cellulosic material in different types of biorefineries, constructing a plant to produce renewable diesel, bio-jet, and naphtha from sustainable feedstocks, and developing new advanced biorefining technologies with a strong focus on lignocellulosic feedstocks.
Advanced ethanol
100% of the feedstock of our advanced ethanol production is waste-based and comes from fully traceable sources. Life cycle emissions have been cut down using waste as feedstock. Renewable energy is used in production and energy efficiency has been one of our top priorities in developing our technologies. St1's advanced ethanol is used in high-blend ethanol fuels or as a biocomponent in petrol in low blends.
Advanced ethanol biorefineries produce other bioproducts in addition to ethanol. The commercialization of these products is important in evaluating the profitability of the investments. For example, some bioproducts can be used as substitutes for plastics or as recycled nutrients in organic fertilizers. St1 is involved in several lignin application developments together with universities and private partners. Some of the promising applications are, for example, bitumen replacement in asphalt production, the replacement of fossil components in resins production, and biochar production for the steel industry.
The St1 research team is developing the Cellunolix concept, producing advanced ethanol from sawdust, a processing residue from the sawmill industry, and the enzymes used in the biorefining process. The R&D laboratory forms a world-class entity with a Cellunolix® demonstration biorefinery in Kajaani. The research results and development work can immediately be taken seamlessly to production for testing on a demonstration scale, and the results can be returned to the development work. The annual capacity of our Kajaani biorefinery is 10 million liters, but production adapts to the test runs of the current research and development phase, resulting in two million liters yearly. This investment aims to result in the extension of the sustainable feedstock base of biofuels with solid biomass, much needed globally, which could significantly increase the use of biofuels. The size of future advanced ethanol biorefineries could then be scaled up to five times.
Through our R&D activities, as well as by participating in partnership-funded R&D projects, we continuously look for new potential sustainable feedstocks for producing advanced fuels. For example, recycled wood, bark, and waste streams from the chemical forest industry and cassava starch mill waste have proven to be potential new feedstocks.
Biogas
St1 has identified strategic focus areas to reach the goal of creating a sustainable carbon cycle and being the leading producer and seller of CO₂-aware energy. One big step toward the goal is to enter the biogas business. Gas infrastructure will complement the St1 value chain as there are synergies between existing operations and gaseous fuels.
Biogas is a renewable gas that is produced from the breakdown of organic material. In concrete terms, we collect waste from households (wastewater and food waste) together with manure from farms and break it down in an oxygen-free environment. The gas that is generated becomes biogas; the remaining mass becomes organic fertilizer that is spread on fields. Natural fertilizer nourishes the organic food that later ends up on our tables. The cycle is complete.
In 2021, St1 acquired E.ON Biofor in Sweden which makes St1 a leading biogas player in Sweden with a one-third market share in the traffic segment. Geographically, St1's biogas sales are in the urban areas of Southern Sweden as well as in Stockholm. The company produces imports and exports biogas and delivers it to customers through several sales channels. St1 has six biogas production and upgrading units, two of which are partly owned companies, Söderåsen Bioenergi AB and Falkenbergs Biogas AB.
In Norway, St1 has entered a joint venture with two partners. With the Biogass Energi Aksdal company, St1, Knapphus Energi and Nor-log have started the cooperation to plan and build a retail network for LBG, liquefied biogas in Norway.
In Finland, St1 and the food company Valio entered into an agreement to establish a joint venture to produce renewable biogas from dairy farm manure and other agricultural by-products as fuel for heavy-duty transport. The company, Suomen Lantakaasu Oy, was established in the beginning of 2022 and it is targeting up to 1,000 GWh production by 2030.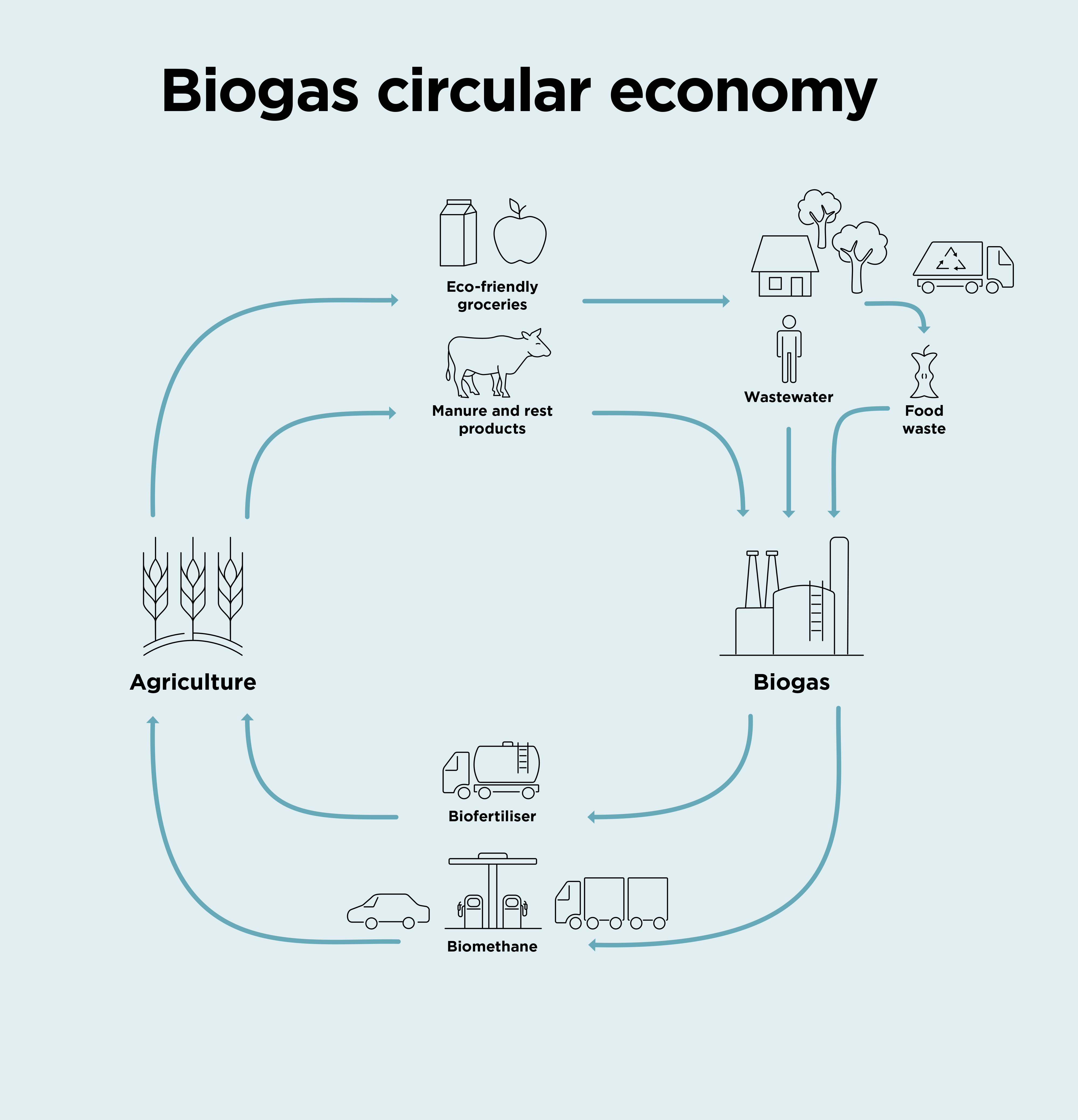 Wind power
Compared to other sources of renewable energy in use today, wind power is one of the most cost-efficient ways to produce electricity. In the Nordics, the wind conditions are very favorable for substantial wind power production. Nordic wind power will play a significant role in satisfying the rapidly growing demand for renewable electricity.
St1's strategic goal is to build up significant production capacity in the Nordic wind power market. The conditions in the Arctic areas in Northern Norway are exceptionally good and could potentially supply renewable energy for the needs of the whole Nordic region. We are a majority shareholder in Grenselandet A/S, which is developing an 800 MW wind farm project in the Finnmark area of Northern Norway. In the first phase, Grenselandet has focused on development work and conducting an environmental impact assessment.
Grenselandet has applied for a permit for the Davvi wind farm. For the permit application, Grenselandet has commissioned an impartial impact assessment of the project for both the environment and society, including a dialogue with the reindeer herding community and local people in both Finland and Norway. Among other things, the independent impact assessment states that protected areas, important habitats, or valuable geological deposits will not be affected. The next phase of the project will depend on the outcome of the official review.
In 2021, St1 Sverige AB acquired Wästgöta Wind AB, a wind power project company containing four projects in early development. During fall 2022, St1 Sverige AB plans to send in a permit application for one of these projects.
St1 has been building cutting-edge expertise in industrial wind power generation for more than a decade. Today, the company offers a wind power service concept that covers the operation of wind farms in Finland, and we are continuously developing projects in all the Nordic countries.
Geothermal Heat
We offer and deliver geothermal heat solutions to meet our customers' demand. In our ground source heat pump solutions, St1 Lähienergia (Local Energy) designs, constructs and maintains heat plants in the range of 30 to 5,000 kW. Our focus is on larger housing properties and public buildings, where ground source heating plants replace the use of fossil energy, such as coal and oil. The heat wells are typically drilled to a depth of 250–350 meters. In larger projects, the wells have extended down to 600 meters. The 1–2 kilometers semi-deep well projects are also being developed and executed to further enhance cost-effectiveness. By developing deeper well solutions, we can more efficiently use confined land spaces, especially within growing urban areas.
In 2021, St1 entered a cooperation with CapMan to accelerate ground source heat plant investments in Finland and decrease emissions by offering clients heating solutions through an effortless and cost-efficient life cycle model. In the cooperation, CapMan is financing new ground source heating plants that are being built and sold by St1.
As part of the arrangement, CapMan Infra acquired St1 Lähienergia Oy's ground source heat plant portfolio serving around 130 properties and produces about 38 GWh of sustainable energy annually. St1 continues to operate the plants and serve existing clients as part of the agreement. The investment program aims to at least double the energy production by 2024.
The pilot project of St1's Otaniemi geothermal heating plant explores the technical implementation options for the heating plant. The Engineered Geothermal System (EGS) technology has proved to be challenging from a techno-economic point of view, and the current mapping phase aims to define the connection of the boreholes and above-the- ground production technologies to achieve the best possible thermal output.
During the design phase of the crossflow test scheduled for fall 2021, detailed data from 2018 and 2020 stimulations were analyzed to provide information on the water flows in the deep bedrock fractures and how they can be intensified if necessary. As a result of the analysis, it was concluded that the new crossflow test between wells does not provide any additional information to justify running it.
An important sub-goal of St1's Otaniemi geothermal heating plant pilot project has been to develop and test technically and economically viable solutions for all work phases of the geothermal business concept. The pilot project has provided valuable information on the conditions under which future projects must be evaluated. In recent years, heat pump technology has developed by leaps and bounds, enabling it to reach sufficiently high temperatures in geothermal heat plants already with shallower heat well solutions. Advanced geothermal power plants will play an important role in the transition to zero-emission heat production and St1 will utilize the lessons learned from the Otaniemi project in the following geothermal projects.