The global willingness to replace fossil fuels with low-carbon options is increasing. To help the transition toward more sustainable energy sources, St1 started looking into how renewable power production can be transformed into "X," where the "X" stands for multiple forms of energy, including hydrogen and e-fuels.
Water can be split into hydrogen and oxygen. This process—known as water splitting—has so far not been widely applied because of high electricity prices rendering it economically unfeasible.
Hydrogen can be stored and used as fuel, and oxygen is useful in, for example, industrial applications and burning processes. Taking this even further, you can combine hydrogen with carbon dioxide (CO2) using synthesis, and "voila": You have endless opportunities to create chains of molecules representing different liquid or gaseous synthetic fuels called electric fuels or e-fuels.
However, this process is tremendously power demanding, and for the e-fuels to be truly sustainable the process, including the entire value chain, must run on renewable energy sources, such as wind power.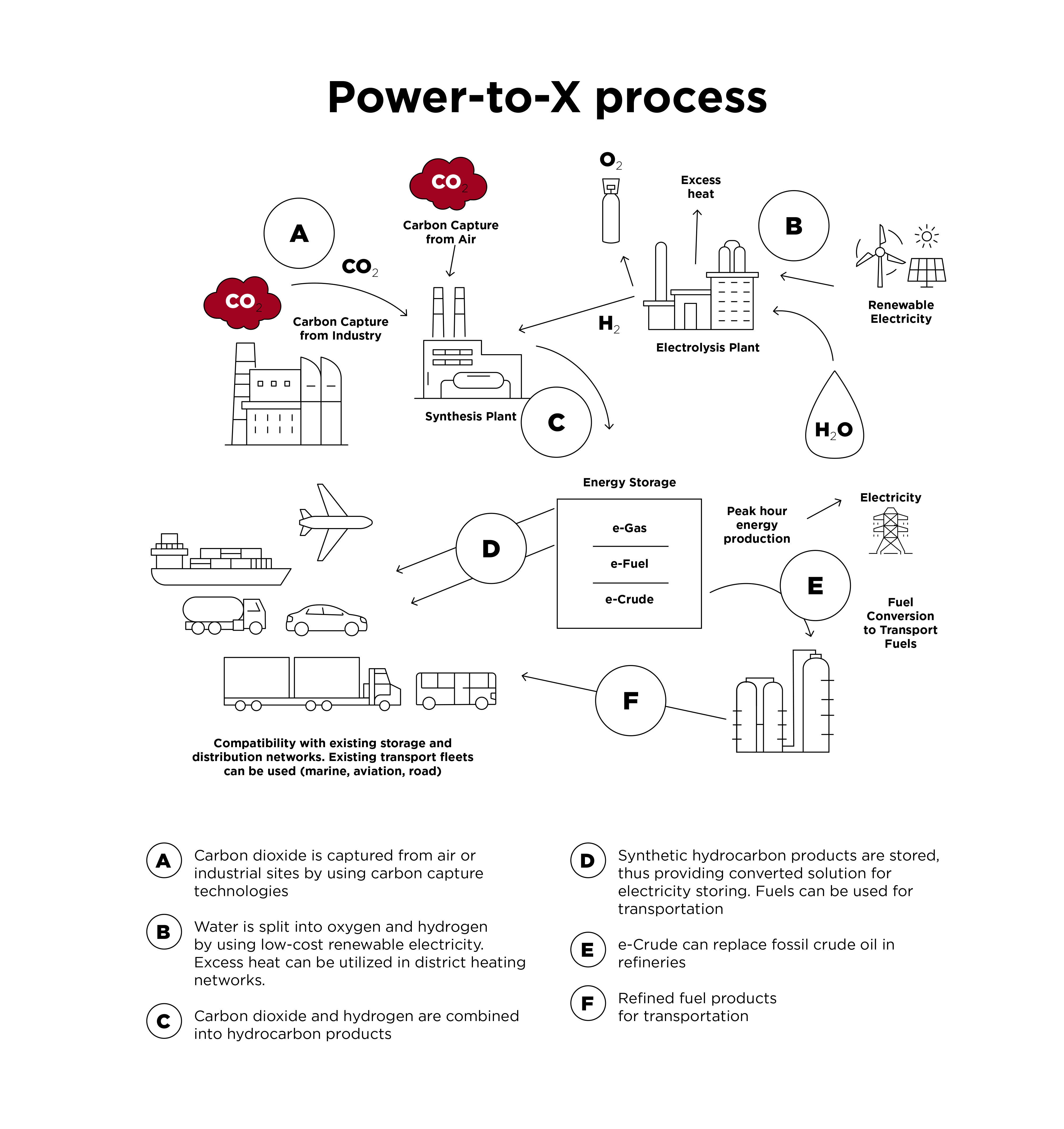 "We in St1 are working broadly with this in Finland, Sweden, and Norway. One of the projects, now in the prestudy phase, is carried out in cooperation with Horisont Energi in Norway, aims to develop a green ammonia plant in Northern Norway that, in turn, will be connected to the wind power ambitions stated for Finnmark," says Riitta Silvennoinen, Head of energy transition business.
In Finland, a prestudy in cooperation with LUT University is conducted to establish an industrial pilot for eMethanol (synthetic methanol). "In addition, we have been working with eMethane, which is the same as biogas but produced by synthesis. We are working to establish a network for biogas and to figure out how to utilize it," Silvennoinen explains.
Meanwhile, in Sweden, much of the focus is on building a biorefinery, the St1 Future business team is also exploring the potentials of electric jet fuel (eKerosine).
Challenges and opportunities
Being a front runner has its challenges. "We don't have many benchmarks to compare with. So our biggest challenge lies in optimizing the turning of wind power into synthetic fuel. Nobody has done this at an industrial scale before. To figure out, for example, what size of different equipment and storages to use is truly an unprecedented challenge," Silvennoinen states.
Despite the challenges there are also great opportunities. "The Nordic countries, in which we operate, have a unique opportunity to develop synthetic fuels and the technology that they require. The potential to produce wind power is significant, and we can harvest carbon from the air or local industry. In addition to the domestic demand, there is a considerable potential for exports of synthetic fuels as we expect global demand will grow fast," she concludes.
You might also be interested in these stories:
Promoting a sustainable carbon cycle
Afforestation pilot in Marocco