In our supply and logistics chain, we cooperate closely with our associated company North European Oil Trade Group (NEOT). Co-owned by St1 and the Finnish S Group, NEOT is a significant independent fuel procurement company in the Baltic Sea region and a vital part of our supply chain.
NEOT specializes in oil and bio-products wholesale in Finland, Sweden, and Norway, and operates in the global trading market. The purpose of NEOT's operations is to provide its owners with competitive and sustainable fuel solutions.
Supply
NEOT acquires fuels from the global trading markets and handles storage, blending, and transportation from refineries to terminals. Our Gothenburg refinery is the most important source of supply, but NEOT also sources oil products from other refineries in the Baltic Sea region, mainly from Finland, Sweden, Norway, Denmark, and Poland.
Going into 2021, the situation with COVID-19 prolonged the market's uncertainty. Still, the majority of our product volumes were relatively stable. While impacting the JET fuel volume, the overall supply was still good.
Traceability of fuels
NEOT supplies the St1 Gothenburg refinery with bio components from the global market and has an offtake agreement to obtain 100% of St1's waste- based advanced ethanol production.
All the renewable fuels that NEOT supplies are traceable and compliant with the regulatory requirements in the markets in which we operate. NEOT sources renewable fuels only from suppliers that comply with the official EU sustainability criteria, either through the approved voluntary EU schemes, such as the International Sustainability & Carbon Certification (ISCC) or nationally accepted sustainability schemes.
Our sustainability schemes verify compliance with the EU's biofuels sustainability criteria and include a third-party auditing process. NEOT's operations are also certified according to the ISCC, the Finnish National scheme, the Norwegian authorities' scheme, and are audited annually. NEOT, being an official member of ISCC, also ensures that their contracts regarding renewable fuels take into consideration all necessary sustainability requirements, including those for traceability.
Due to the complex nature of fossil fuel supply chains and the lack of legislation to drive the industry toward traceability, it is not yet possible to demonstrate the traceability of the crude oil supply chain at the same level as with renewable fuels.
We do, however, work toward traceability for fossil fuel products. In Sweden, we have labeled our products for origin since 2015. In fact, we were the first fuel and energy company to introduce information on the origin of our fossil fuel products, and we believe in increasing knowledge and contributing to a positive development in our industry. We, therefore, present our information as clearly as possible so that our customers can see where our crude oil, fuels, components, and bio-products come from— regardless of whether we buy finished products on the world market or process them ourselves in our refinery in Gothenburg.
Our vision is not just to be the leading producer of CO2-aware energy, we also aim to be at the forefront of transparency when it comes to fuels and other energy products.
With further ambitions to grow our energy trading business in the future, we have strengthened our energy trade and logistics business unit to be able to grow capabilities to optimize of our existing and new assets. This will also enable us to put more emphasis on centralized energy trade and risk management of feedstocks for liquid and gaseous fuels, electricity, EU ETS allowances and carbon credits as well as currency trade.
Logistics
Together with NEOT, St1 maintains a comprehensive logistics chain in all our operating countries. This logistics chain consists of terminals for storing products and a wide transportation network.
Quality, safety, and environmental aspects are taken into careful consideration throughout the logistics chain.
Terminals
In Finland, the network consists of six terminals operated by NEOT. Seven terminals in Sweden and nine in Norway are operated by St1. Our terminals through- out the Nordics are complemented by our marine depots and some partner terminals, which together form a network of more than 30 storing points.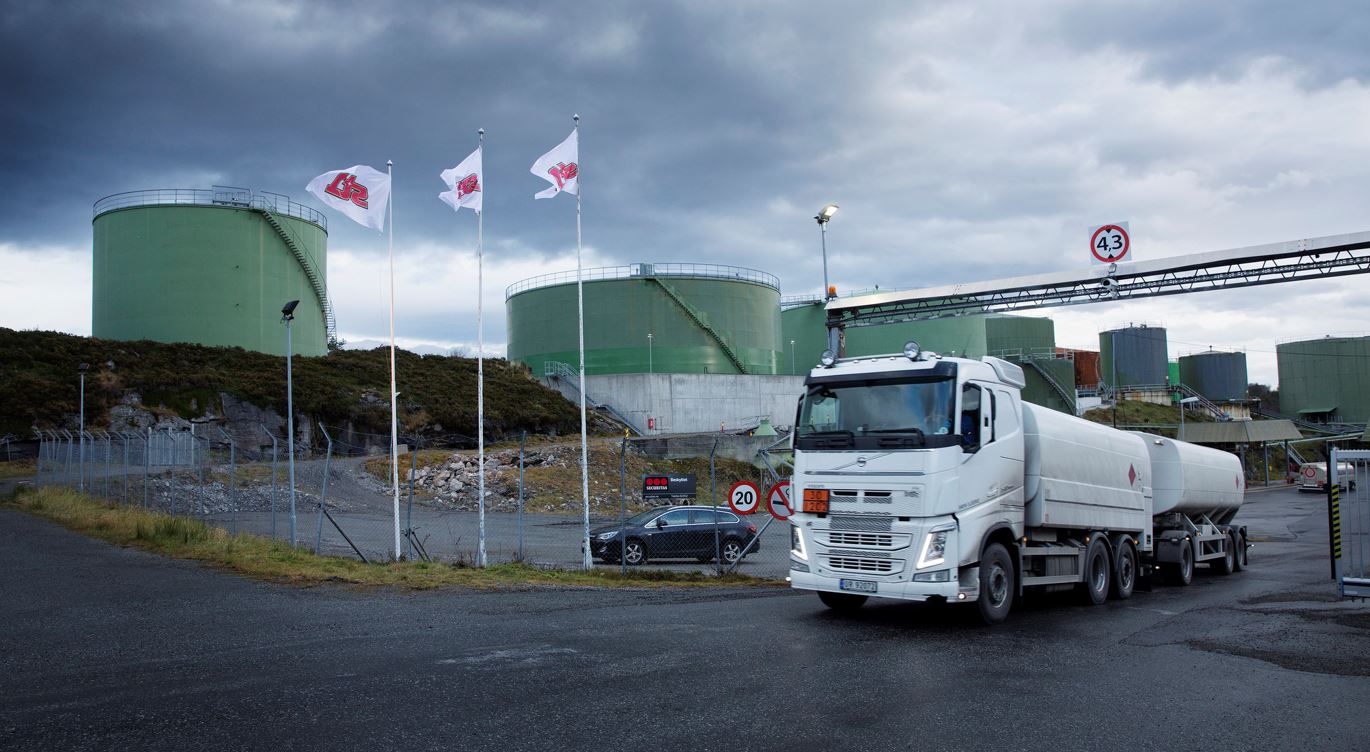 Transportation
Jointly, St1's and NEOT's transportation network includes shipping as well as road and rail transport. Its main activities center on the Baltic Sea region. The network transports biofuel components to the refinery as well as the end products from the refineries to the terminals. The majority of NEOT's shipping operations are conducted as time chartering.
Two of the five most-used vessels in NEOT work to reduce the environmental impact of oil products in the supply chain by using new and energy-efficient LNG technology. In addition, two of the six most used vessels in NEOT's operations are dual-fuel vessels that are mainly powered by liquefied natural gas (LNG). Vessels using LNG technology have a significantly lower environmental impact compared to traditional tankers, as they generate fewer sulfur oxides (SOx), nitrogen oxides (NOx), and particle emissions.
Road transport is handled by our cooperation partner network. In Finland, NEOT is responsible for road transport from the refinery to fuel stations and from there to hundreds of thousands of homes and companies. In Sweden and Norway, other transport operators are responsible for the deliveries to our station network and our direct sales customers.
The transport of fuel products between the port terminal in Hamina and the inland terminal in Varkaus in Finland is conducted via domestic railways. In Sweden, the products are delivered by train from Gothenburg to Karlstad and Jönköping and from Gävle to Arlanda Airport.
We collaborate with NEOT to improve the sustainability of our supply chain. The goal of the collaboration is to enhance the traceability of our products and to enable the calculation of their carbon footprint.
More information about NEOT's operations can be found in NEOT's Sustainability Report 2021, available here.
Quality, safety, and environmental aspects are taken into careful consideration throughout the logistics chain.