Since 2016, St1 has been welcoming apprentices at the depot in Lillesund. "It is important to help students get a certificate and work experience. This gives them broad experience in life," emphasises Terminal Manager Clas Bjelland.
Bjelland has been an avid advocate of getting apprentices at his depot and encourage his colleagues around the country to do the same.
"Yes, there is some work to begin with, but we are getting more and more back as time goes on and they become self-going. Also, they can do a lot of things that help make us better together," he says, pointing out the computer skills his apprentices have contributed with as an example.
He explains that it has been easy to get good candidates, especially through the work-experience scheme the school facilitates.
Three-week job interview
"Every year we have four students working with us for three weeks, where we host two students before Christmas and two after. So, it's almost like a three-week job interview. Both of our first two apprentices were recruited through this scheme and wanted to come back when they were going to take the apprenticeship to become a production technician," he says.
"And then of course it's good to have an age range in the business and have someone to take over. This is how we can operate safely all the way."
Ole-Petter Bjørdal, who heads St1's logistics department, praises the work being done in Lillesund, and hopes that even more depots will do the same.
"In St1's culture, we want to contribute back to society and provide opportunities. We bring in people from schools who are recruited and get to work in a safe and secure workplace. Here they learn both how to relate to a workplace and learn good and safe routines," he says, adding that it is also a great reward we get back:
"We bring in young people who ask questions that you didn't even know was a question. Then we have search backwards to remember why we really do things," he chuckles. The apprentices have given inspiration to several experienced employees at the terminal to take a certificate as well.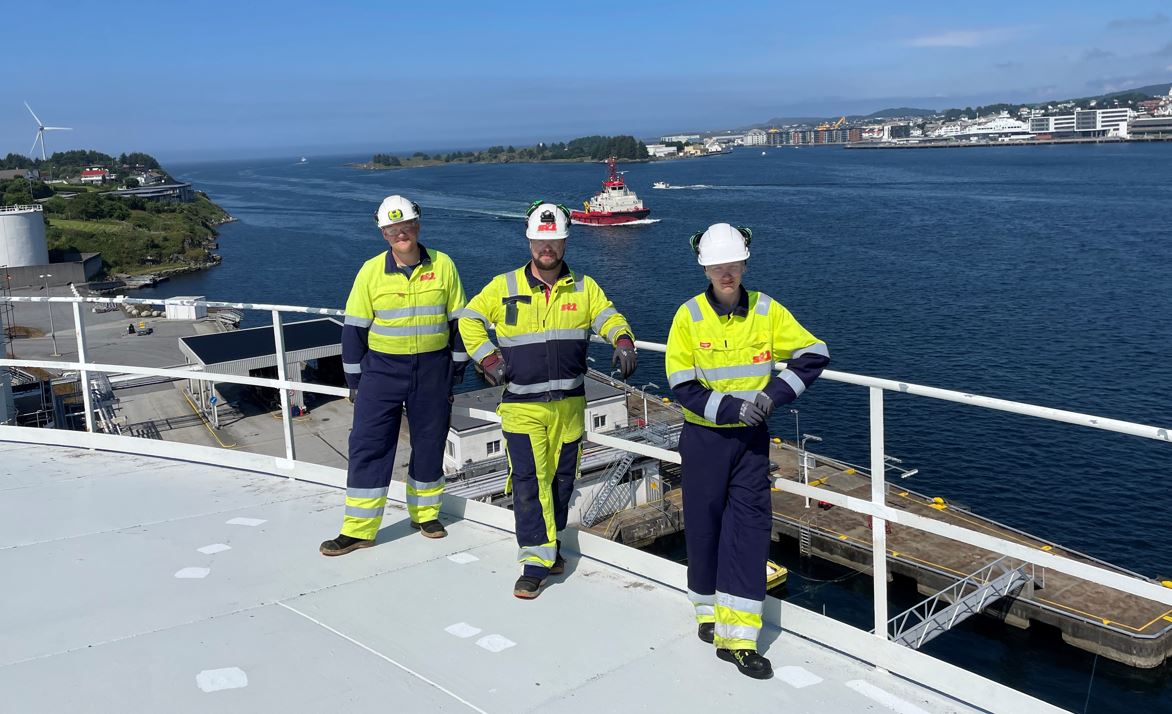 Great experience
One of those who has contributed with his questions is Svein Andre Onarheim. He was the first apprentice to arrive in 2016.
"Being here during my three work experience weeks was great, and I only applied to the Lillesund Depot when I was going to become an apprentice. I like that there are varied tasks and much outdoor work. It is wonderful in summer – and perhaps a little less wonderful during winter. Moreover, I feel that I am contributing to something I see the value of," says Onarheim.
"I'm very pleased with the training I received. It was learning through practical tasks, first with someone experienced, and then more and more independently. Eventually, I also gained more responsibility and could be a relief to others, which gave me ownership for the work," he says.
The third apprentice in the line is now Daniel Strand, who started in August 2021 and will take his certificate next year. He says it was the opportunity for a varied working day that attracted him to St1.
"I feel well received and have had a steep learning curve. At the same time, I get to learn my way. I have a good program to see my progression and what I need to learn more about. Then I can talk to my superiors and get more practice on what I need. It works well for me," he said.
Whether Strand stays after the apprenticeship is too early to predict. Onarheim was after his apprenticeship offered a permanent job and accepted.
"Clas has made it possible for us to develop, and I enjoy it. This is a good and safe place to be. In addition, I am pleased with the good dialogue with the logistics department at the head office. If I contact them, I get tips, help and good answers to my questions. It makes me feel part of a bigger team. The collegial somehow does not stop inside the gates of the terminal," he concludes.